Company information
Message from the President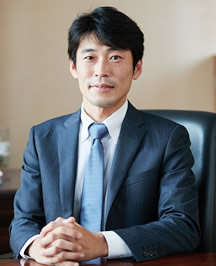 Founded in 1947, Kansai Catalyst has been in the business of functional materials development and manufacturing for over 60 years. Throughout these years, our highest priority has always been customer trust. Customer trust is essential for building a lasting relationships with customers, as well as for growing as a company.
As a chemical company, we have also been focusing on creating products that demand high purity and high quality and developing unique technologies to meet these demands. These technologies serve as a source of the strength that has allowed us to continue growing to this day. Currently, we provide products to be used as key materials in a broad spectrum of fields such as batteries, electronic components, catalysts, surface treatments, pigments, and reagents, earning high praise from our customers.
Of these fields, the demand—both quantitative and qualitative—for synthetic, high-purity battery materials is increasing rapidly along with the popularization of electric vehicles, hybrid vehicles, and other types of eco-friendly automobiles, and so are customer expectations toward Kansai Catalyst as a supplier of such materials. In anticipation of this trend, we have expanded and upgraded our facilities while refining our technologies, and this forward-looking stance has led to our achieving our current reputation. We will continue our efforts to take the right course of action by anticipating and meeting future needs as quickly as possible in order to be a company that by pioneering the future remains essential to society. We appreciate your continued support.


Company Overview
Company name
Kansai Catalyst Co., Ltd.
Establishment
March 1957
Executives
Chairperson Yasuko Minoura
President Yoshiki Minoura
Director Kuniaki Kawamura
Headquarters
1-3-13 Kashiwagi-cho, Sakai-ku, Sakai-shi, Osaka
Branch office and plants
Tokyo Business Office: Kanda System Building 9F, 7 Kanda Konya-cho, Chiyoda-ku, Tokyo
Yamaguchi Plant: 3440 Ogo, Tabuse-cho, Kumage-gun, Yamaguchi-ken
Gifu Plant: 4023 Kasahara-cho, Tajimi-shi, Gifu-ken
Phone
+81-72-241-6200
Fax
+81-72-245-1513
Capital stock
302,800,000 yen
Business hours
Headquarters: 8:50 to 17:35
Plants: 8:00 to 16:55
Number of employees
91
Businesses
Industrial chemicals, cathode materials for rechargeable batteries, electronic component materials, metal surface treatment agents, development, manufacture and sale of various chemicals for catalysts
Milestones
| | |
| --- | --- |
| August 1947 | Established Minoura Pharmaceuticals |
| March 1957 | Reorganized the company and founded Kansai Catalyst Co., Ltd. in Minamishimizu-cho, Sakai City |
| May 1960 | Relocated HQ and Sakai Plant to Kashiwagi-cho, Sakai City to allow for business expansion |
| November 1964 | Succeeded in exporting catalysts and catalyst technology for the first time in Japan under the Japan-USSR export protocol |
| April 1965 | Built a second plant in Hamadera Ishizu-cho, Sakai City |
| August 1965 | Established Tabuse Plant (currently Yamaguchi Plant) in Tabuse-cho, Kumage District, Yamaguchi Prefecture |
| November 1972 | Established Tokyo Business Office in Matsubara, Setagaya Ward (currently Setagaya City), Tokyo |
| June 1974 | Established a used Ni-Cd battery processing plant for pollution prevention and resource recovery |
| April 1979 | Relocated Tokyo Business Office to Nihonbashi Hon-cho, Chuo Ward (currently Chuo City), Tokyo |
| April 1983 | Constructed the new HQ building in Kashiwagi-cho, Sakai City |
| April 1983 | Established Gifu Plant in Kasahara-cho, Tajimi City, Gifu Prefecture |
| October 1986 | Established Central Research Lab |
| August 1994 | Established a new wastewater treatment facility at Yamaguchi Plant |
| December 1995 | Made a private placement of 25,000 shares |
| December 1996 | Developed and started production of high-capacity nickel hydroxide (cobalt-coated) |
| August 2000 | Expanded the high-capacity nickel hydroxide production facility |
| August 2003 | Acquired ISO 9001 certification |
| November 2004 | Acquired ISO 14001 certification |
| November 2007 | Expanded the nickel acetate production facility |
| August 2009 | Expanded the composite nickel hydroxide production facility |
| April 2011 | Relocated Tokyo Business Office to Kanda System Building 9F, 7 Kanda Konya-cho, Chiyoda City, Tokyo |
| November 2011 | Established Central Battery Materials Co., Ltd. |
| March 2017 | Celebrated the 60th anniversary of Kansai Catalyst Co., Ltd. |
Access map
Headquarters
Tokyo Business Office
Yamaguchi Plant
Gifu Plant